Letterpress printing exploded onto the scene in Europe and spread rapidly. The first prints were of outstanding quality. German printers travelled in all directions but it was particularly those printers who crossed the Alps into Italy (Rome and Venice) who played a decisive role in the propagation of this art.
Thus, within ten years of Gutenberg's death, workshops had been established in most European countries: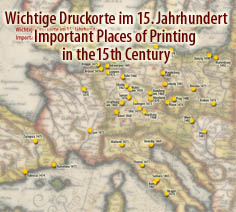 Click on the image to open a new window with an enlarged map
1470 in Paris (France),
1473 in Utrecht (Netherlands),
1474 in Valencia (Spain),
1475 in Breslau (Poland),
1476 in Brussels (Belgium), Pilsen (The Czech Republik) und Cracow (Poland)
1476 in London (England).
Later printing shops were established
1483 in Stockholm (Sweden),
1503 in Istanbul (Turkey),
1515 in Saloniki (Greece),
since 1553 in Moscow (Russia),
since 1556 in Goa (India) and
since 1590 in Kazuna (Japan).