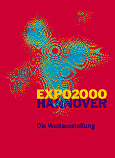 Dear EXPO 2000 visitor,
welcome to the website "Gutenberg digital".
From June 23rd on the State an University Library will present you more detailed information about the forthcoming exposition "Gutenberg and his impact" in Göttingen.
Göttingen is a famous university town 30 minutes south of Hannover.
You are invited to see the unique exposition about Johann Gutenberg, "Man of the Millenium", from June 23 till October 30.
Martin Liebetruth (liebetru@sub.uni-goettingen.de)
---
Copyright © 2000 Niedersächsische Staats- und Universitätsbibliothek Göttingen
Last change: 31.05.2000, ml